Pools Need Moms!
Yes, that means you!
Unbelievable as it sounds, spring will be here before you know it. While I understand that it is difficult for you to scoff as heartily as you would like at this statement, due to the massive amounts of snow you are still shoveling…
Resistance is futile.
…But trust me, swimming season really is just around the corner.
As you prepare for this coming swim season, we would like for you to keep a few things in mind about safety. We know pools are just about the funnest (yes, I said "funnest") thing for a kid - if you didn't have a pool growing up, I'm willing to bet that some of your fondest memories are of the great times you had in your neighbor's or community pool.
Kids love pools!
Of course we want to create the same wonderful memories for our children as they grow up, but times have changed, and thankfully drowning prevention is more in the eyes of the public than it ever has been before.
Here at Fin2swim, we advocate a multi-faceted approach to drowning prevention; learning to swim is only one small piece of the puzzle. Here's how it should look, starting with education:
Education
--> Active Supervision
-->Physical Barriers
-->Alarms
-->Aquatic Skills
-->Emergency Plan
-->Education:
The message we want to get across to the public is that drowning is a huge issue. First, the bad news:
it's the number one cause of death in children under age 4.
Now the good news:
drowning is preventable.
Being aware is the first step – never leave your children alone in the tub, near buckets or especially kiddie pools, spas, etc.
Pool Safely is a division of the US Product Safety Commission and is a wonderful place to start when it comes to drowning prevention and pool safety. They even have free promotional and educational materials to help you spread the word about keeping safe around water, including information on fencing, prevention, building safer pools in regards to drain covers, awareness and education, and identifying hazards on the pool deck.
Get more information here:
http://www.poolsafely.gov
-->Active supervision:
This means that when you are out in the yard with your children, you are actively watching their play, not just lounging in your chair, slipping in and out of nap time with your ice-cold beverage getting warmer in the sun.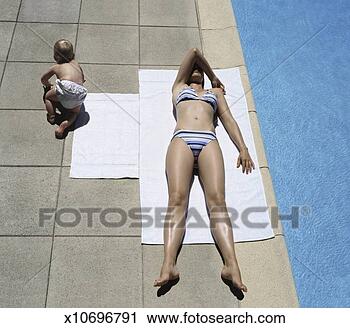 Wake up, mama!
Water Watcher tags, worn on a lanyard around your neck, are available for free or at a minimal cost (about $2.00 each). What is a Water Watcher tag, you ask? This is a Water Watcher tag:
This is so easy, it's almost a no-brainer. All you need is a group of adults willing to take on the responsibility of watching after the children in the water for a designated 10 or 15 minutes at a time. This means NO socializing, no alcohol, no phones, and no distractions for a solid 15 minutes, not even your mp3 player, Blackberry or Ipod. You can do anything for 15 minutes, especially if it means the life and welfare of your children! And this means every time you are in or around the pool, no matter what the circumstance – whether it's a birthday party, BBQ or just a fun day in the backyard.
I cannot stress this enough – it is very easy for people to say, "Yeah, I know, I know, watch my kids, blah, blah, blah, I do it all the time, you don't need to tell me." Yes, I do.
The majority of children that drown (75%!) are under direct adult supervision.
Please do not become complacent about this – the longer your children stay in the pool without an incident, the more
you
as a parent are reinforced for
not
having an accident happen. The more time that goes by, the stronger and stronger this reinforcement becomes, sometimes over the course of years. By the time your third child is 2 years old, you start to think, "Eh, been there, done that, they'll be fine, the first two are still around and they swam all the time with us just ½ watching them."
This is exactly the attitude that gets people in trouble.
Beautiful, but NO! Not when there are kids involved.
This isn't to say you can't have fun in your pool – that's why it's there in the first place! That being said, here's the easy part: Before your group goes into the pool, be sure the children and the adults are all very clear about who is taking what shift. The Water Watcher doesn't need to be a lifeguard, just someone who cares that their child stays safe. If you have a whistle, use it sparingly, and be sure everyone is clear on what a whistle blast means – 1 for changing shifts or no running, 2 for everyone out
right now
, and 3 for an emergency only. Be consistent when getting everyone out of the pool – kids need to know that if they don't get out, they don't get to swim next time, and you need to mean it – don't let them sneak back in.
Pools need moms! (And dads, too!)
Vigilant dads watch their babies even in the ocean. This is one way to keep him in place.
Get your Water Watcher tags here:
http://www.waterwatcher.org
, from the Independent Pool and Spa Service Association (IPSSA). These are the nice folks who come out to clean your pool, who are dedicated to drowning prevention as well.
-->Physical Barriers:
Another no-brainer in my book. I understand that in some landscapes, a fence may be unsightly, but so is a 3' coffin. Suck it up and get yourself
a fence with a self-latching lock
that's situated well out of reach of your young ones.
A fence is only as good as the locked lock.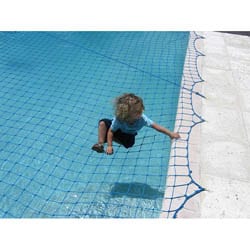 Make sure your older children never prop the gate open –
toddlers and pets have no idea about the dangers water can hold.
Even if you've trained your family very well, your visiting relatives or neighbor's children may not be as vigilant about your rules, either, so keep an eye out for that.
If you have a free-standing spa, please be sure the cover is locked shut. It is easy for people to underestimate the strength of their toddlers.
Lock that sucker! Yes, your non-verbal 18-month old can lift the cover!
Much better, and safer!
Be judicious in your use of plants and patio furniture placed around the outside of the fence, as well. Low shrubs may add to the "Physical Barrier" aspect, making it more difficult for even the most rambunctious of toddlers to push your lawn chairs to the fence to climb over it. Just be sure you keep the shrubs trimmed and your view unobstructed. But you already know that you would never be in the pool area unless you're with them, right? See, you can be taught!
This fence completely surrounds the pool and is separate from the house, hooray!
While the shrubs might hinder children from climbing, this might be a bit too much – you don't want to limit your line of sight to the pool.
A great place to start with fencing is
http://www.katchakid.com/main.htm
-->Alarms:
There are many types of alarm systems available on the market, for all different budgets. Some alarms go off when a door or gate is opened, others when even the smallest leaf is blown into the pool. Again, there is a risk of complacency – if you hear your alarm trigger every other day (or even several times a day!), it will be easy to assume no emergency has happened if you see that your children are fine
this time…
It's that
one time
you are distracted by life's little things when submersions happen.
A favorite of mine is the Safety Turtle, which includes a wristband worn by children (or as a collar for pets) and a base unit. The instant the wristband gets wet, the alarms sounds – and believe me, it will get your attention. The wristband has a lock that is virtually impossible to undo, even for the most monkey-like Houdini reincarnate. The Safety Turtle wristband works in conjunction with their gate alarm as well. It's a wonderful investment for grandparents or traveling.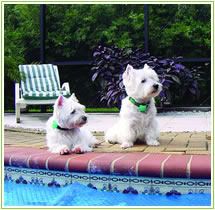 Get your Safety Turtle here:
http://www.safetyturtle.com
-->Aquatic skills:
A skilled child in the water is a thing of beauty. It is absolutely amazing to see a fully skilled 8 month old floating peacefully on her back until help arrives:
Eight-month old Elizabeth learned to roll and float by herself in 4 weeks of lessons
But the fact that she made it into the pool alone and unsupervised is the tragic part…
Q: Why do we still have such a high drowning rate?
A: Because adults of all ages consistently underestimate the risk of accidental drowning.
(From Safety Turtle's website)
People believe they will be able to hear their child fall into the water, and that it should serve as enough of an alarm. This could not be further from the truth! Children can slip in silently, noiselessly – more often than not there will not always be a big splash.
Another common misconception is that since babies spend their in-utero time surrounded by water, it is a natural and automatic thing for babies to know how to swim. FALSE!
Swimming must be taught as a sensorimotor skill, meaning through the muscular system, much like learning to walk or ride a bike.
Yes, it is a natural environment while in the womb, but babies are not independently breathing oxygen at that point. If it were natural and automatic for babies to know how to swim, why do we still have such high numbers of pediatric drowning, year after year?
The same growth and development in your 6 month old that allows him to access your pool by crawling there is the same neurological capability that allows him to learn survival swimming techniques.
Your child needs to learn to swim and survive in the water as early as 6 months of age.
Did you notice there are no floaties, armbands or any artificial means keeping our 8 month old Elizabeth afloat? This is because she learned to roll and float as a physical skill set. If she were to crawl to the pool, she could very likely be wearing her footie jammies and a diaper, not a bathing suit and arm bands.
Children need to know, and are capable of, learning how to handle themselves in the water, without panicking, while fully clothed.
A fantastic resource for parents about drowning prevention lessons nationwide can be found here:
http://www.fin2swim.com
http://www.swimfloatswim.com
http://www.infantaquatics.com
One organization committed to drowning prevention advocates a 3 –pronged approach, Swim For Life, with their Safer 3 program: Safer Water, Safer Kids, Safer Response time.
http://www.swimforlife.org
-->Emergency plan:
Isn't the Boy Scout motto "Be Prepared"? Same thing applies here, too. This includes keeping a phone outside, near your pool. This phone is for you to call emergency services if need be, not to see how Aunt Mildred's cat's surgery went.
Aunt Mildred's cat will be just fine. Don't answer it, that's what your voicemail is for.
Know CPR. Have an AED handy. Keep your Water Watcher tags and responsible people at the ready. Do everything you can so you never see these under-appreciated guys at your pool: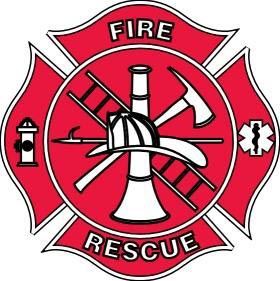 Here's what you want to see instead:
Happy, skilled babies are a joy to swim with, and can look forward to a lifetime of fun and safety around any body of water.
Please do what you can to ensure the safety of your little ones this year!
-Keri Tom, Fin2swim